Country Flag Square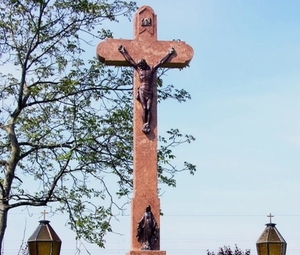 According to the stories, it was originally at the end of today's Endre Ady and Széchenyi road, now it is located in Valusek street, opposite Church street.
The cross was erected in 1833 by the supporters of the Roman Catholic Church in Vértesszőlős in the hope of survival, because of the epidemic in the village. It was put on its present final place in 1886, where it was in the same plane as the road. However, over time, due to heavy rainfall, the area has been filled up, and the cross was smeared, which got one and a half meter deeper than the level of the main road.
The National Flag Square probably got its name in 1935. The pedestal of the National Flag, which was built of stone from Szőllős, was designed and built by Miksa Lusztig, a citizen of Vértesszőlős, on his own expenses in 1935. The construction was carried out by József Ekési,Ignác Kutenics, and a citizen, also from Vértesszőlős, whose name was either Németh or Némedi.
The idea of renovation of the neglected square and lifting up the sunk cross below ground level was raised by Béla Tóth, deputy Mayor in 2007. With his management and organization, with the support of the local government and the parish, and with the sacrificial work of the inhabitants of the village, the renovation of the square could be realized. On October 23rd a newly dressed square and a newly created memorial of '56 were opened.
«

Back to the previous page!